On-Prem Admin Dashboard and REST API
This API enables simple management of a On-Prem system.
An Admin Dashboard is included, and enables simpler management through a web-based interface:
In combination with the jidoteki-admin, it is possible to use the REST API to:
Upload and validate a license file
Upload a software update package
Upload TLS certificates
View the status of a software update
View and update network settings
View and update application settings
View the status of system services
Retrieve compressed log files
Retrieve an encrypted debug bundle
Retrieve version and changelog of the system
Reboot the system
View and update persistent storage options
Retrieve build details
Requirements
PicoLisp 32-bit or 64-bit v3.1.11+
Tested up to PicoLisp v20.6.29, see test runs
Git
UNIX/Linux development/build tools (gcc, make/gmake, etc..)
OpenSSL command line tool (openssl)
Stunnel4 (for HTTPS only)
(required) jidoteki-admin v1.20.0+ deployment in /opt/jidoteki/tinyadmin/
Getting started
Type ./run.l to launch the HTTP listener
View the API documentation at: http://enterprise.vm:8080 or https://enterprise.vm:8443
File and directory permissions
The API does not need to run as root.
If using the jidoteki-admin, it requires sudo access to commands in /opt/jidoteki/admin/bin, write access to /opt/jidoteki/admin/home/sftp/uploads, and read access to files in /opt/jidoteki/admin/etc/.
Environment variables
It is possible to specify a few environment variables at runtime.
JIDO_API_VERSION: There is only one API version (1), but this makes it possible to load a completely different set of API endpoints, ex: JIDO_API_VERSION=2 ./run.l.
JIDO_API_PORT: The default port for the HTTP listener is 8080.
JIDO_WITH_SSL: By default, only the HTTP listener will be launched. If you want to start an HTTPS server as well, you can set JIDO_WITH_SSL=true. It will launch an stunnel4 process on port 8443, so ensure an enterprise.pem SSL certificate exists in the same directory as stunnel.conf.
JIDO_STUNNEL_BIN: The name of the stunnel binary. On CentOS it's stunnel, but on Debian it's stunnel4. Defaults to stunnel4.
JIDO_ADMIN_PATH: The full path to the Admin application. In most cases it refers to /opt/jidoteki/admin/, but it may be different depending on the application.
JIDO_API_CUSTOM: When this is set (ex: JIDO_API_CUSTOM=yourapp), the API will load custom.l from the yourapp/api/v1/core/ directory.
API Endpoints
See the API Documentation.
Contributing
If you find any bugs or issues, please create an issue.
If you want to improve this application, please make a pull-request.
HTML and JavaScript
The HTML and JavaScript files are written in Jade and CoffeeScript, respectively.
npm install -g jade coffeescript minify
To compile the HTML, type: make html
To compile the Docs, type: make docs
To compile the JavaScript, type: make javascript
To minify the JavaScript, type: make minify
To do everything at once, type: make ui
Changelogs
Screenshots
Update
Backup/Restore
Network
Certs
Storage
API Token
Monitor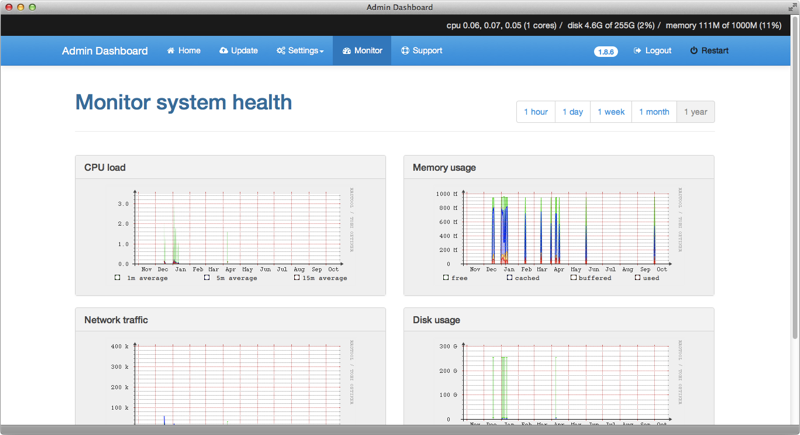 Support
License
Copyright (c) 2015-2019 Alexander Williams, Unscramble license@unscramble.jp